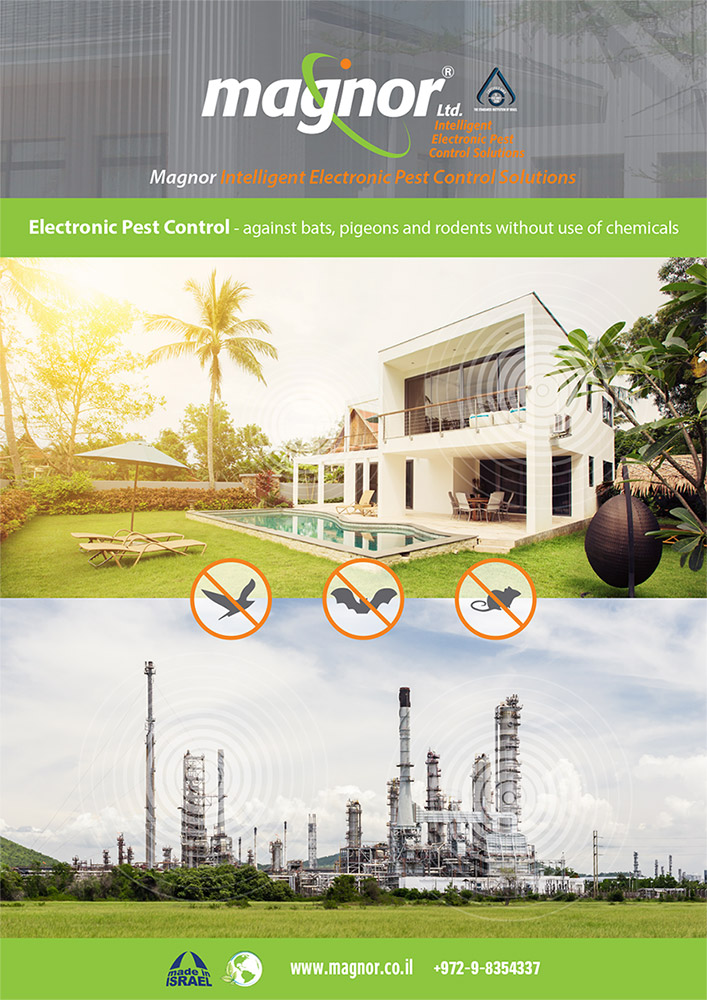 Magnor Electronic Pest Control Ltd is the leading pest control and rodent control company in Israel, specializing in electronic, environmentally friendly pest control. This system of pest control is effective against a wide variety of pests and insects, keeping to the green, ecological guidelines by not using dangerous pesticides which are well known for being toxic. All of the company products in the development of magnor production.
Magnor Electronic Pest Control Ltd provides the most advanced systems in Israel, based on an international pest control technology which has been proven to be more efficient, safe and economical than any other pest and rodent control.
Electronic Pest Control Ltd is the greenest, most advanced method for maintaining a pest-free zone without harming the environment or the well-being of humans and pets. In addition and unlike the traditional methods that give short-term solutions only, our Electronic Pest and Rodent Control systems provide long-term prevention as well as being a quick solution for any pest or rodent invasion.
Since its establishment, Magnor Electronic Pest Control Ltd has based its operation on values of keeping a green environment, innovation, efficiency, uncompromising quality and professionalism.
Magnor Electronic Pest Control Ltd has a professional and experienced team, trained to identify, locate and control a variety of pests and rodents. Magnor Electronic Pest Control Ltd advocates a philosophy based on professional, courteous and reliable service, leaving its customers with a pest free zone. As part of the service, the customer will receive an in depth onsite consultation with consideration given to specific needs and given budget.
Magnor Electronic Pest Control Ltd works in collaboration with a team of experts to consult on each project and carry it out to the customer's full satisfaction, keeping to the planned work schedule. The company's services are suitable for all sectors including private, commercial, institutional and agricultural.
Magnor Electronic Pest Control Ltd works hand-in-hand with the world's leading Electronic Pest Control manufacturers. All systems provided by Magnor stand up to the strictest, most environmentally friendly and professional standards, including the European and American Standards . Magnor Electronic Pest Control provides its services throughout the country guaranteeing full service and complete disinfestation.
Please visit our website to browse the website for more information about the many services provided by Magnor Electronic Pest Control Ltd, which include: control of cockroaches, bats, pigeons, rats, mice, ants, moles, cats and other pests. You will find information regarding each animal, as well as information regarding our innovative methods and the way they operate, based on the specific animal sensitivities, thereby getting rid of these pests altogether.
We wish you a pleasant tour!
Contact Us
Magnor Electronic pest Control LTD
Phone : +972-9-8354332
email:info@magnor.co.il
DISTRIBUTOR INQUIRIES
If you would like to become a Distributor,
contact us at +972-9-8354332 or email: info@magnor.co.il